Happy New Year everyone! Hope everyone had a fun and safe holiday. Ours was pretty low key as poor Erich was sick with a virus and ear infection (getting better now, poor guy) and was spent with a Doctor Who marathon on Netflix and a fitting new start by me, Space Traveler from HAED. Josh didn't make it to the Tuesday evening marathon but he did show his festive side earlier in the day...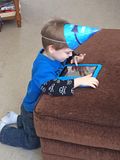 Being a HAED, my new WIP will look like a blob for quite awhile but here's the progress I made on New Year's Eve and Day...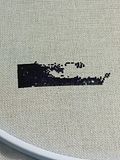 Oh and let's not forget the orts! I emptied them out on Dec 31 to start new for the new year. Unfortunately the TUSAL for January fell on the first day of the month so my jar is pretty sad looking but I'm looking forward to filling it up again.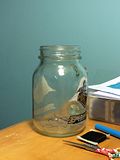 Not sure why I'm showing off a mostly empty jar? It's
TUSAL
that totally useless time of month that Daffycat hosts a SAL to show off our pretty collections of orts. Useless but fun! Click and join, we do it all year long around the full moon.
So what else is going on now that it's 2014? Not much so far, I'm working in finalizing my project lists for the year and exactly which SALs I'll be participating in. Looks like TUSAL and WIPocalypse again but I'm thinking about the Turtle Trot too, seems appropriate since I have an abundance of big, slow moving WIPs. I'll be back in a few days with some goals.
One more thing for today- I've signed up for the Grow Your Blog Party 2014 over at Vicki's 2 Bags Full blog. I participated last year too and it was a lot of fun and a great place to find some new blogs to follow too. Sign ups are open until January 15 so click soon. I'll try to get her pretty button up on the sidebar soon. That's it for now, happy stitching!