Sure didn't mean to be gone a month but life just keeps getting in the way. So what's been going on? Well, we had another short camping trip, my Mom had foot surgery and is still recovering though she's at least somewhat mobile again (two weeks of bed rest were not fun for her so we've been keeping her company a lot), there's been job stress and some general life stress too and just not enough hours in the day. Hoping that things are going to calm down as we get closer to the holidays but that's probably wishful thinking. I am going to try to make a little more time for blogging and reading though, I've missed both!
So I brought pictures of course. We had a pirate Halloween this year, Josh even made a pumpkin pirate...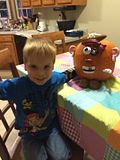 And we did trick or treat with some of Josh's cousins. The kids had fun even though the rain forced us to trick or treat at the mall with the crowds.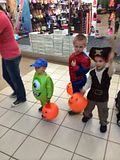 I've been stitching too. I finished another of the LHN Little Sheep Virtues...
And the first of four birth announcements (except for the personalization, haven't decided in the lettering yet).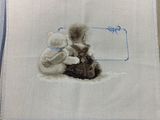 Number two is getting close to finished too, I'm hoping to get these first two to the framer before Christmas.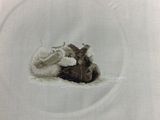 That about brings us back up to date. Josh and I are enjoying a rare quiet day at home today so I'm hoping to get some more stitching time and reading time in. I'm looking forward to seeing what everyone's been up to.