Just stopping by for a quick post before a very busy week starts in our house. Thanksgiving is coming and it will be a busy one this year with all the usual dinners plus a 90th birthday party for Erich's grandparents (yes, they both turned 90 within a few days of each other earlier this month), plus extra work hours for Erich since he works retail, plus some extra stuff keeping me busy that I'm not quite ready to share here yet. But the main reason I stopped by today is that I'm now Mom to a 5 year old. How did that happen? He was just turning 2 a couple days ago, right? He's definitely a big boy now and yesterday we had a big pirate party with family to celebrate. There were presents (note the blurry hands, apparently the idea is to open everything as fast as humanly possible)...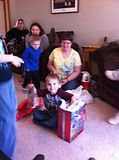 And a treasure chest piñata made for little kiddos (it had pull strings to release the candy instead of having the kids whack at it)...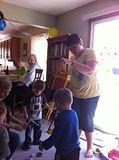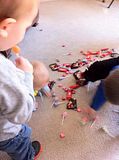 And special cupcakes. Yes it was all edible (except for the treasure chest) and I'm sure the moms loved me later for all the sugar but the kids loved it. So did I actually, it turned out better than I thought it would:)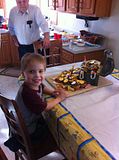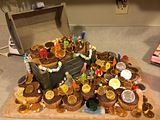 So that's about it for now. We spent the early part of today with Erich's family for his Mom's birthday and are spending the afternoon and evening relaxing and getting ready for the coming week. Hope everyone getting ready for Thanksgiving has a happy and safe one!