I know, I know- long time without a post again! Got busy with the camping trip and clean up afterward. Doesn't it always seem to take longer to get everything clean and put away after vacation than it did to get it all packed? Glad we didn't put it too far away because we're going again next weekend. Just a short weekend trip this time but we wanted to get one more in before it starts to get too cold at night.
Anyway, before I get too far wanted to say thank you for all the kind words about my cubed mandala. I sure learned a lot doing it and definitely want to make more. And I did hear about the Fall Celebrations but too late to make plans to go. I'm definitely jealous of anyone that did make it. The class from Tracy Horner alone would have been well worth the trip. Maybe next year.
Moving on to new things, I brought a ton of pics today so let's get to it. First up camping with my parents and cousin Lauren. We had great weather and bunches of fun and I learned how to play cribbage. We even saw a bunch of wild turkeys. Thanksgiving dinner anyone?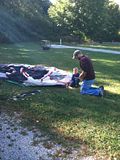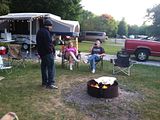 Besides camping I've also been stitching. I'll have to update the birth announcement next time but I do have a finish and a finished finish to report. I decided awhile back to stitch the LHN Little Sheep Virtues for my sisterly law and to finish them as pillows. She collects sheep and she's had a rough year too so I thought she might appreciate the series. She was very excited with the first one so I'm already working on another (maybe two) for Christmas and maybe some ornaments too as the rest of the family reminded me they haven't gotten any stitched items in awhile. So here is my first in the series stitched on 32 ct Chestnut linen and finished as the model was (turned out pretty well too for my lack of finishing expertise). My button hole stitch could probably use a little work but it was a rush job to finish so next time.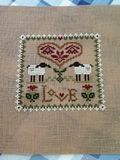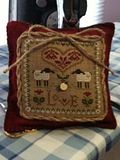 Finally for now, Josh had a daycare field trip today to a farm for some Fall fun- hayride, pumpkin picking, corn maze, play time on some cool pedal cars, some jumping fun, and a corn box (think sand box but with corn). I went with them and if school doesn't go next year we will definitely come back on our own. This place was great!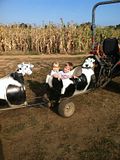 Add to it that we put up the Halloween decorations this afternoon and it was a perfect but busy day. Tomorrow's forecast is promising some thunderstorms so I'm taking that as a sign to stay in and stitch and play. Be back later with some more stitching pics. I'll try not to stay away so long this time.