Totally missed TUSAL last week but I come bearing all kinds of pics to make up for it today! First of all, I got a new ort jar!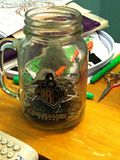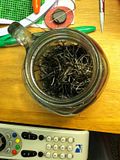 We were out shopping a couple weeks ago and came upon a display of these Mason jar mugs at Bed Bath & Beyond. Seemed a perfect ort receptacle at the time and it has been so far. Check out everyone else's orts
here
. And yes, those are non-black orts up on top. Since I finished stitching A Spirited Mandala a few days ago I made a fair start on the first round of My Favorite Teddy birth announcement from Vervaco. I bought the kit online and have swapped the Aida out for 32 count ivory Lugana and converted the threads to DMC since there won't be enough for all four of the stitchings I'm planning. I like it so far and it feels like its going fast...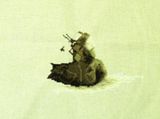 The fabric's a little yellower than in person but otherwise the colors are about right. Strangely, the other project I've been sneaking in is on the same fabric (found a use for some of that extra Lugana already!) and was photographed at the same time with better results...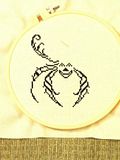 That's the start of Jack-A-Rachnid by Tempting Tangles Designs from the new JCS Halloween issue (the one that came with subscription). Just couldn't get out of the spooky mood.
And speaking of spooky, I turned A Spirited Mandala into a finished object...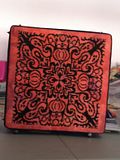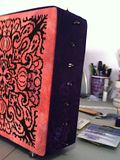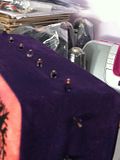 I used a combination of instructions found in tutorials
here
and
here
. I think it turned out pretty well for my first attempt. One change I made was to leave off the ribbon and bow and do a row of beads down the middle. I tried it a couple ways and liked this one best. Oh, and I also used four round beads stuck into the bottom with straight pins to make feet so it stands up a bit.
So other than all of that stitchy goodness we've been keeping pretty busy. We're at just a few more days until our camping trip so my dining room currently resembles a camping supply store but we're slowly getting it all organized. Hoping to try to get in a quick picture post while we're gone but I'll share some pics when we get back if not. Either way, everyone in the house is counting down the days for now.
One minor change to my 2014 plans- I will apparently not be attending the retreat I previously mentioned. I don't want to get involved in a big fight with the company but am a bit disappointed in how they handled things as it was not made clear up front the process used for "selecting" attendees and was made quite obvious that "first come, first served" wasn't it when I called to question my declined registration after receiving a seemingly positive original email followed by a second last week to say sorry but no. That's fine, my money will instead go toward attending
Celebration
next Spring where it clearly states everything on their site. Plus there's a decent chance I'll be able to meet up with some online stitchers as this seems to be a much bigger event.