A day late again but it's just been one of those months so far. It started with trying to plan a birthday party for Josh (still can't believe he's going to be 4 in a few more days!) that didn't conflict with a bunch of other family events and our work schedule. Managed that but then the basement flooded last Monday, Josh was off to the doctor with an ear infection on Tuesday, party day was Sunday and this Monday Josh had an accident at daycare. Apparently it was Josh vs scooter and Josh lost- his right index finger got run over by another kid. How just that one finger and not the whole hand got run over I'll never know but I'm very thankful it was only the one finger. Poor kid, it was so ugly we had the doctor look at it today to make sure it wasn't broken. It isn't, just bruised and swollen and likely to lose its nail. They talked about poking a hole in the nail and draining it but decided against it. Whew, not sure I could have handled that. It makes me a little queasy just thinking about it. Josh is doing all right with it so far. The real trick is going to be trying to keep a bandage on it to protect the old and new nail until it al, grows out. I'm sure we'll be stocking up on character band aids.
But on to more pleasant things. My almost 4 year old had a great party with family and friends. He got plenty of new things to play with and my house survived the 7 boys age almost 1 to 7 that descended upon it. I've got pictures but they're still trapped in the camera. I'll try and get them up soon.
I did get a TUSAL pic. What is that you ask? Well
click
and learn. Oh and join too:). More orts to look at are always a good thing. Here are mine for this round...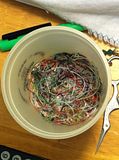 There are a few orts from the last stitches of The Witch's Pantry, a few from the Mill Hill Toy Shop kit, and some from QS Pirate Dragon. HAED stitching doesn't make for lots of orts but the dragon has actually received the most attention lately.
It feels like I should have more to show for the amount of time I've put in since last picture but that green patch of dragon is almost solid confetti. I'm almost done with it now though and then the rest of the page has some pretty nice chunks of color so it should go a little faster. I have today and tomorrow off so I'm hoping to stitch until my eyes fall out as a reward for putting up with the last couple weeks. Josh seems to be on board with that as he's got lots of new toys and puzzles and we've broken out the Christmas movies a little early:)