It was a wet Halloween but only drizzling during the evening so we were able to trick or treat yesterday with Luke and now we have way more candy than we probably need but Josh had fun. Didn't actually get any great pics as the kids didn't want to stand still long and the camera didn't cooperate too well either but I have plenty of stitching pics to make up for it since it is once again
WIPocalypse
check-in time. Hard to believe there are only 2 more left!
First of all, I have a new project to report. I started a Mill Hill kit that was on my original list of things to start as I finish others. It's the Toy Shop from the Christmas Village series. I did the Apothecary last year and am hoping to eventually have enough of them to frame and set up across my mantle at Christmas instead of a real village that small hands and big tails could knock over. Here is where it stands now...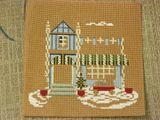 Next up is the before/after on QS Pirate Dragon since I've put in a little more time on that one since last time. This one is my focus again so should be a lot of progress this next round.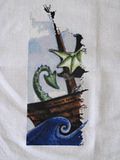 And finally, I can report that I did indeed finish The Witch's Pantry and before Halloween too!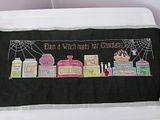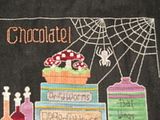 I was particularly happy with the way the spider turned out and the Swamp Gas and Dragon Scales jars. I tried very hard to make the variegation in the thread work for me and these turned out really nice. I was able to give each dragon scale it's own unique look and I love the swirling I was able to get in the swamp gas. So that's about all the stitching excitement for this round. I'll try to have a bunch to post for next round but I'm afraid other things are going to get in the way with a certain little boy turning 4 this month, Thanksgiving and of course that all important Dec. 1 deadline when Webshots is going to delete my albums. Got all my stuff over over to Photobucket but am still working on transferring descriptions and changing links over.