Meant to get back here a little sooner but it's been one of those weeks where there's always something else to do. Too much work, been running around doing all sorts of little errands, and got our dossier paperwork checklist so we're getting started on that for our adoption. So here's what we've been up to lately.
Before we left for vacation, got a chance to see one of my cousins who was home between assignments for work at a cookout recently. Josh got a chance to play with Luke and some of his other cousins.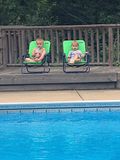 Aren't they just too cute lounging by the pool! They were actually pretty far away from the water with plenty of adults nearby but they thought they were such hot stuff sitting poolside:)
Had to unexpectedly replace my car. We were planning to soon after the next adoption is complete but it started making an expensive-to-fix kind of noise so it got traded in for this...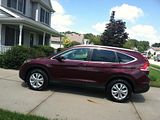 Say hello to my brand new Honda CR-V. I was a little intimidated at first look but we thought something like this would be best for our growing family. I have to say that though I don't love the payment so much (the Accord was paid off) I do love the vehicle! Good gas mileage for what it is, roomy, and lots of fun features my old car didn't have like Bluetooth so I can play my iTunes completely wirelessly:)
Best part is that we got it just in time to drive it up to Wisconsin where we took a little vacation recently. Had some extra vacation time saved since adoption travel has been delayed so we took Josh up for a long weekend and kind of made it up as we went along. We ended up having a great time. We started out seeing this at a rest stop just outside Chicago...
Josh was super excited to see Scooby's van and it turned out to be part of an advertisement for the
Volo Auto Museum
so we took a trip over the next day and were treated to buildings full of classic and famous Hollywood cars. Erich was quick to point out that most of them were for sale but I think one new car is enough for now! Josh was particularly impressed by Doc and Lightning McQueen and by one of the original Batmobilesfrom the old TV series.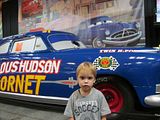 The only thing we didn't like so well was that most if the buildings were pretty noisy. The ones that had the Hollywood cars all had TV's playing the movie/show they were from next to them and Josh wasn't so happy about all the noise but seeing some of the cars seemed to make him forget he didn't like the loud noises at least for a few minutes.
The other big adventure on our trip was a visit to the
Bristol Renaissance Faire
. Erich and I had been a couple times when we were dating long ago but this was Josh's first trip. He was pretty unsure of all the dressed up people that wanted to talk to him but he did have a good time on some of the rides and watching the knights joust.
On the way home we had to make a stop at Mars Cheese Castle for cheese and sausage. I think Josh thought there would be knights and such inside too when he saw the building...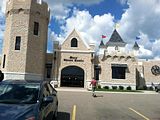 He wasn't too happy about it just being a store inside but he did make friends with the cows while we picked out cheese and other goodies.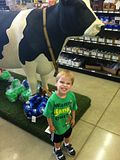 Speaking of goodies, got a totally unexpected package from
Jo
the other day...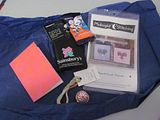 Thank you so much! I've been eyeing your snowmen as you've stitched them and thought about getting them every time you posted a pic but now I will just have to find time to stitch them. And Olympic goodies too- I'm going to have to fight Josh for the chocolate but the reusable bag is awesome, I love bringing my own when I shop so it's perfect! Thanks so much for thinking of me, I really appreciate it.