A few days late but still not too far into September yet:)
So since last
WIPocalypse
post, I did participate in some stitching competitions inspired by the athletic events over in London. I decided to work on projects that had solid stitching and to see how many stitches I could get in during the month. With vacation and adoption paperwork and plain old work I probably didn't have my best month ever but I got a fair amount done.
First up was a new start, Lisa Victoria's QS Pirate Dragon charted by HAED got a total of 6,463 stitches...
And I also put some more stitches into Fish City, 3,680 to be exact...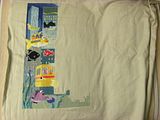 I finished off the billboard, added a fish, and got to work on all that background at the bottom of my new chart page. Not too bad for a month filled with all sorts of distractions from stitching:)
So for September, I have no real stitching plans, no pressure, no deadlines. I'm thinking about continuing on with the dragon since I finally got to a good point to start his tail and it is the year of the dragon after all but we'll see which WIP calls the loudest next time I sit down to stitch!