Not too much excitement going on around here since last post. Days are getting shorter and cooler, still working our way through adoption paperwork for our Polish dossier, and work is still crazy.
Josh is doing well, just moved up to the 4 year old room at daycare and they are starting preschool activities. He's been bringing home writing exercises where they are practicing beginning writing skills- straight lines, curved lines, diagonal lines and so on. He's getting way too big too fast! I can tell he plays with the older boys now. I pity the poor teacher because the class is pretty much all boys and they are a handful! He's already come home with pebbles in his shoes (and not just a few, we're talking a dozen per shoe) from the playground and had a taste of paste because all the other boys did it. Boys!
Anyway, there has been some time for stitching and Josh is very excited to see the start of his dragon...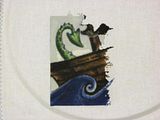 I'm just happy to have the confetti-filled tail done. The rest of the page isn't so bad but that tail was packed with confetti! The big, wavy blank spot at the top of my stitching is the start of a wing. I'm trying to fill in around it a little so I've got something to run my finished threads under when I get there. Right now I'm working through a bit more confetti right at the bottom of the mast and then I'll tackle that wing. Got a bit of vacation time coming this week so we'll see how far I get.
Oh, and it's
TUSAL
time again too. Time to show off those orts!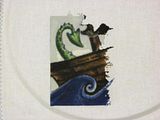 Not very exciting colors and not that many since I'm stitching over 1 on 28ct but you can definitely see the colors of my dragon and his boat and sky in there. And some of my stitching supplies and my working copy too since I took the pic on the little side table I use to hold my stitching stuff while I work:)
Off to get out the fall stuff with Josh today. He's very ready to see all the spooky things he's been missing since last year!