Hope everyone celebrating this week had a happy 4th! We had a great time. It was my grandfather's 80th birthday so my family rented a suite at the local minor league ballpark and we had a surprise party for him. Everyone had an excellent time and now I am officially spoiled for going to the ballpark. Look for pics coming soon.
For now, it is time again to check in on what I've been stitching. Since the last
WIPocalypse
check-in I've worked on 3 projects and I actually finished one of them too. So let's get to the pics.
First up, Fish City doesn't have any new fish to show off but the buildings in the background are growing...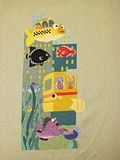 Please excuse my wrinkly fabric and the lighting. The colors are a little truer in the before pic. I was taking pics in a different spot and don't think I like the lighting so well there. Anyway, I also worked on TW's Fantasy Triptych...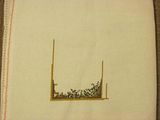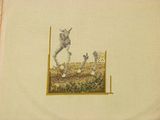 And finally, I have WIPocalypse Finish #4 to share. After much consideration and a little experimenting I give you Skeleton Crew...
After letting it sit for awhile with just a bit of backstitch unfinished I found a skein of 3819 in my Fish City box and went to work filling in the serpent's hair only to find that I really didn't like the way it looked. I was never quite sure about it anyway and the 3819 didn't look great on the fabric so I ended up leaving it off, adding my initials and calling it done. I started stitching on 9/2/08 and finished it this morning. The fabric is Silkweaver Shadowbrook lugana in 32 count. I stitched as charted except for the serpent's hair which I left off entirely.
Now to decide what to work on until the Stitching Olympics start. One of the boards I read and
Measi
are both hosting Olympic-themed stitching events to coincide with the London Summer Olympics at the end of the month and I believe I have settled on starting a new HAED to participate. Josh got a look at
Lisa Victoria's Pirate Dragon
piece and he wants it so I think I might try to finish it off for his new big boy room when we swap rooms eventually after the next adoption. Off to go browse the WIPs until then...