Time again for TUSAL! Don't know about TUSAL, click the button on my sidebar and join the fun. I actually have a decent amount of orts to show off this time, lots of Fish City blues for the most part...
And here is the result of all my blue stitching...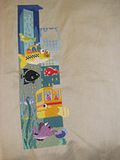 It's been mostly background this time but I really like what the addition of all the blue is doing to the overall look of the piece. And I was pretty excited to finally hit the top too, a big BAP accomplishment to me. It gives me perspective on how far I've got left to go- quite a long way for now!
Not much else going on around here that I can talk too much about yet. Still researching other adoption routes and I think we're getting close to our next move but still a few kinks to work out. I'll let you know our choice as soon as we sign with someone. Hoping it's sooner rather than later, we're anxious to get back on track for giving Josh a sibling.
In non-adoption news, looks like the heat has finally broken, at least for a few days. And we got rain, real soak the ground rain! Sounds terrible since we need more but I really hope tomorrow is sunny as we're hoping to make a trip to the county fair but if it rains we'll make it another day. Take care and happy stitching!