Turns out my happy dance will have to wait a few more days. I was so close to finishing Skeleton Crew yesterday only to find out the last bit of backstitch on the serpent requires a DMC color not in my bag of threads for the project. Surprisingly, 3819 wasn't in my stash of threads either so I guess it will have to wait for the weekend when I can get out to one of the local craft stores. I'll have to settle for posting my orts today. Yup it's
TUSAL
again, time to see what kind of scraps are lurking in my ort cup.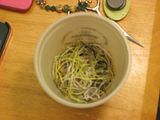 So this month the cup reveals I've been slowly working through the boring neutrals from Fantasy Triptych with a smattering of ghoulish green from Skeleton Crew's moon. Hope to add some fishy orts to the top today as I rotate back to Fish City.
Thanks to my generous son I'm now experiencing the bug that had him down the first couple days of this week. Note to son-Mommy generally loves presents from you but you really could have kept this one to yourself. Thankfully, he is feeling much better today so he has gone to play with his friends at daycare for a bit while I try to sleep it off and conserve what's left of my voice for tomorrow's double shift at work. I love him dearly but answering his "Wha-choo doing?" every few minutes is not going to do me any favors if I'm planning to work tomorrow and I do need to be there especially since I already took a sick day this week. He was also starting to get a bit stir-crazy from being cooped up at home since the weekend so getting out for the day will probably make him happy too.