Oops, got busy with end of Summer/start of school and missed August so you get a double dose of stitching this month.
For August I actually had a new start I used to join in some of the online stitching competitions taking place around the time of the Rio Olympics. I made a good start on an eventual gift for my younger brother, HAED's charted version of Coppervein by Ruth Thompson. I got about 3,300 stitches in, not a bad start but still a long way to go!
I spent the rest of my stitchy time working on all things Christmas. I made some good progress on the Brittercups-
Mostly finished my trio of Gingerbread boys (just need to be personalized)-
And started working through Prairie Schooler's Cranberry Christmas. I'm tempted to restitch some of these in a dark blue/white/green colorway but not sure I'll get around to that this year.
That's all for my stitching progress so on to Measi's question of the month.
Tell us a story about the journey you took through one of your completed pieces.
I'm going to go with Noah's Sub by Stoney Creek. This one has a story even before I started it. I saw
it somewhere on one of the online stitching groups in the early 2000's and knew it was a piece I
wanted to stitch for my eventual child's room. I was in college at the time and already engaged to my husband so kids were coming but not soon. I was pretty disappointed to find it was out of print and going for way more than my budget would allow on eBay. I tried to bid a few times but could never quite win. Christmas rolled around and I was surprised to find the leaflet in a Christmas package from my husband's aunt. Somehow she had managed to be in the right place at the right time and had gotten it for me. Erich bought the DMC as a birthday gift and I was ready to stitch.
That WIP followed me around for the next few years. It was there when I went to Indy on an overnight trip for a second interview that ended in my first real job as a pharmacist. It was there at our first apartment. It went on vacation several times. I remember working on the half stitches of the colorful sky during my mother in law's cancer surgery (she's fine now). I worked on it on and off through the first few years of trying to start a family when we weren't sure we ever would. It was entered in The Wagon's first Stitching Olympics and won a gold medal. I worked furiously to finish and frame it when I thought we were getting close to finalizing our first adoption. I closed it up in the child's bedroom I couldn't enter for weeks after that adoption fell through at the last minute. It hung as a centerpiece in Josh's room when he arrived and I remember holding him up to it and pointing out all the different colorful animals and it still hangs in the room though the twins occupy it now. I'm hoping one of the three boys will want it back someday for their own kids.
That's about it for stitchy things but before I go just wanted to share a recent pic of the twins. They turned 2 yesterday and have grown into such big boys! They were pretty wiggly but they almost sat still with me and their new Paw Patrol buddies:) They're getting so close to letting me stitch while they're awake. More stitching time is coming soon!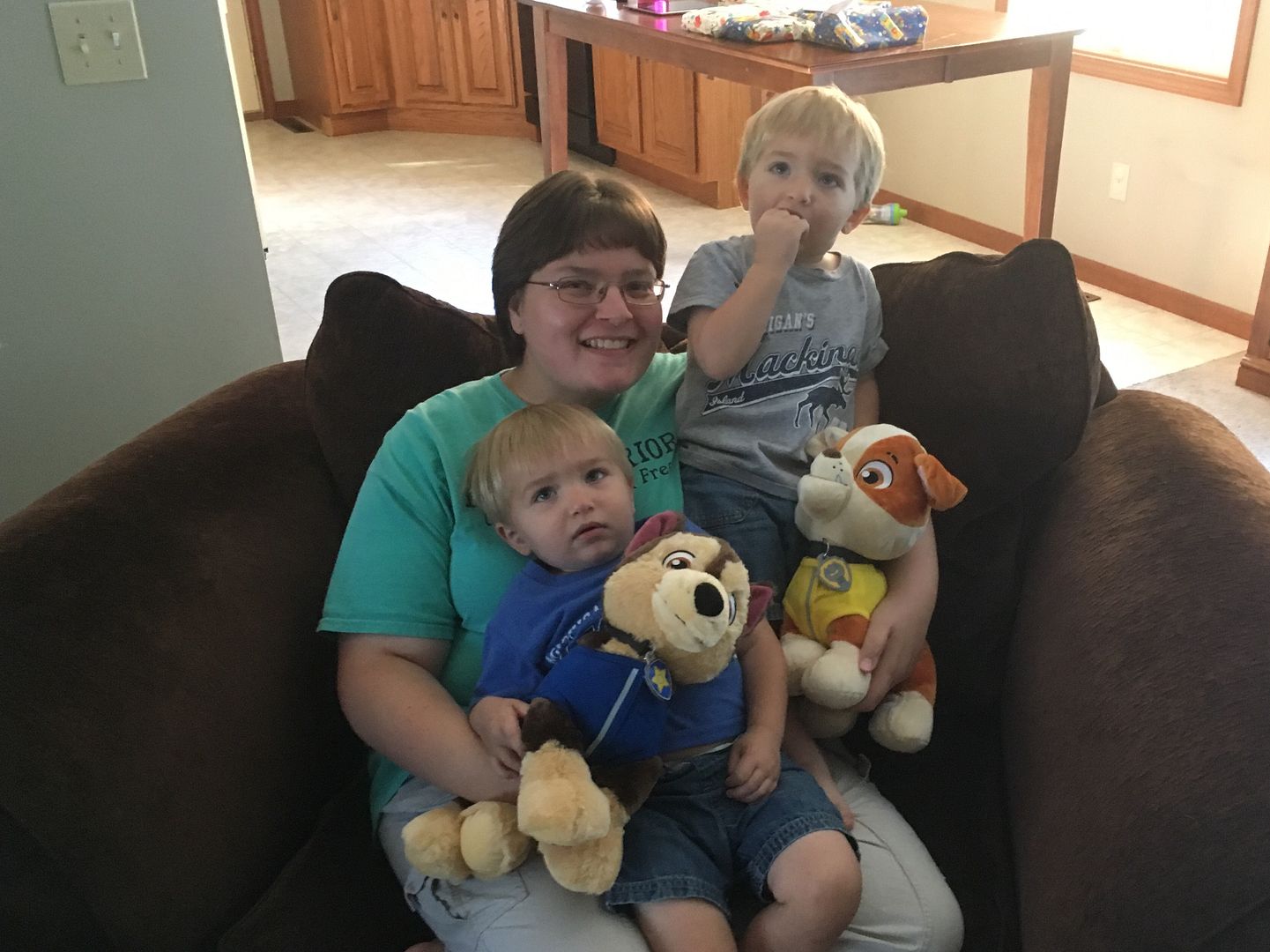 Can't wait to see what everyone else has been up to!