Sorry to have been gone so long but most of the posts I didn't write would probably have read something like this- Still tired. Still trying not to vomit (morning/all day sickness was pretty vicious for awhile). Still didn't stitch anything.
Things are getting better now. The morning sickness has subsided and I've got some energy back along with the start of a good sized bump. Babies are doing great, right on target for size at just about 20 weeks along and starting kick up a storm in there. Oh, and we found out they are boys at the last ultrasound too so I'm officially a minority in this house:). Realized that I'm prone to swelling as the weather is warming up so am going to attempt to spend a good chunk of my summer in the AC and hopefully get some stitching done. I actually did get a few stitches in today...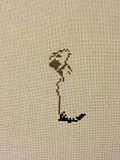 That's the first few stitches on my last My Favorite Teddy birth announcement. I think I'm starting to get some stitching motivation back so hopefully more will follow soon. In other crafty related things, I got Josh's QS Pirate Dragon and the last birth announcement framed recently.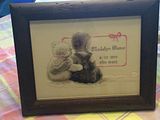 Outside of baby stuff, there's not a bunch else going on here at the moment. We're getting ready to do some room switching so Josh can have his new room and we can start getting ready for his brothers. I'll try and get back a little sooner next time and bring more pics.