Meant to get back for at least a post in between the awesome Grow Your Blog event and the end of my giveaway but life kind of got in the way but in a good way, a very good way indeed. I'm not quite ready to say yet (don't want to jinx anything) but give me a couple weeks. It's worth it, I promise.
Anyway, I've got some business to take care of today- SALs to report on, a giveaway to attend to. First off, you'd think I would have had plenty of time for all of this. Just look at my front yard...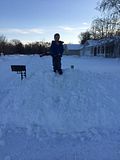 That would be my son standing on top of the snow pile by the mailbox. We've not been out much lately, too much if the cold and winter weather around here. I'd say I'm ready for Spring but I fear we'll need an ark when this mess finally does decide to melt!
Speaking of Spring, my mystery Spring-themed giveaway tied to the GYB event does have a winner and it is Sandra of Thistle Cove Farm. Congrats! Email me at justanotherflamingo @ yahoo dot com and I'll get your info and start working on your prize. I have to say that though I haven't had nearly as much time to look through all the blogs as I'd like, I have really enjoyed seeing everyone's blog that I've made it to and am looking forward to continuing to explore and find new favorite places to stop. I also notice that my blog has grown as a result of the event and I am glad to have new followers and look forward to getting to know you too.
So onto the SALs I've been neglecting. Both Turtle Trot and WIPocalypse have come and gone and I am working on Space Traveler for both this year in an attempt to not keep it as a WIP for too many years. Unfortunately I've been a little lax in the stitching department lately. It's not so much a lack of time, more that other things have been taking up my time. Maybe this month will be better, we shall see. Until then here is my small amount of progress, at least it's a little more than a dark blue blue blob now...
Apologies for the bad thumbnail, Photobucket apparently didn't like this one though the full size image is totally normal. And in answer to the WIPocalypse question of the month, which asked about my rotation and just how many WIPs I keep, I don't actually have a set answer for either. Unless I have an obligation piece I kind of stitch what I want when I want and as far as number I like them to all fit in the stitching basket under the little table by my stitching chair but don't really have a max number. Unfortunately I've got a bit of overflow going at the moment but I'm hoping to get some time to work on that this year. If not, no big deal. It's not like these projects have an expiration date or anything, they'll keep:)
Not much else going on that I can talk about at the moment but hopefully all will quiet to a reasonable level and I won't miss SALs again next round.