So this is my post for the 2014 Grow Your Blog party hosted by Vicki (click above to see her blog and explanation). If you haven't heard of this the short explanation is that it's a fun way to discover and connect with awesome blogs that you might have otherwise missed.
First off, welcome if you're visiting me for the first time. I hope you like what you see and come visit again. I'm Sara and I'm a 34 year old cross stitcher from northern Indiana in the United States. I live there with my husband... < br>
Our son...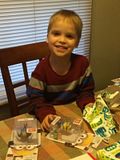 And last, but certainly not least, the dog...
I began stitching as a young child, taught by my grandmother, and have been doing it pretty much ever since. My projects tend toward the BAP side of the spectrum rather than the smalls so there aren't always a lot of finishes around here but there's usually a fair amount of stitching going on, at least as much as there can be with an active five year old in the house. Lately I have actually started collecting some smaller projects, mainly the Little House Needlework Little Sheep Virtues and I've been doing an awful lot of drooling over most of the offerings from Country Cottage Needlework. I'm particularly loving those pink, light blue and light green winter pieces of theirs as well as the new Frosty Forest pieces. They may be falling into my basket soon:). Other than that my tastes run to Teresa Wentzler, Ink Circles, Chatelaine, HAED, Mirabilia, and bunches of random designs that catch my eye. I'm a sucker for holiday designs, especially Halloween and Christmas. I'm not the best finisher but I'm slowly working in improving my skills there.
Outside of stitching I enjoy reading, cooking, and traveling. I'm pretty excited that Josh is old enough now to go camping too, something the DH and I enjoyed before kids and are getting the chance to introduce Josh to now.
I can't think of anything else terribly exciting to tell you about myself right now except that I will be doing a giveaway. I'm terrible at planning these things so it will be somewhat of a mystery but the plan is to stitch and finish a nice Spring small and throw in some other goodies too. To enter please leave a comment at the end of this post and I'll draw a winner on February 15. No guarantees that the prize will be ready to ship that day but at least the winner will know that there will eventually be a package in the mail. It is not required to become a follower to enter (though you're more than welcome to add yourself anyway) but I will need an email/blog address/some way to contact you either in the body of your comment or on your profile.
One last unrelated thing- I know I totally blew the follow up IHSW post this month. I was all set to show off a finished birth announcement when a few frogs hit and irritated me to the point that the piece is having a little time out right now. I'll take a picture when I'm sure the frogs have gone and I finish the last line of personalization.