Just noticed (only a day late!) that it is once again time to take a look at my ort jar for the
TUSAL
, a useless but fun way to see what I've been stitching on and meet some new bloggers too.
What happened to all those nice TW colors you ask? Well, they're still there only they're buried under a bunch of black now. I got a little burned out on the blended threads and snuck in a new start...
I've been itching to do some holiday stitching since I got the new JCS Halloween book so I gave in and started the Ink Circles Spirited Mandala from the first one a couple years ago since I happen to have a cut of the recommended fabric hanging around in my stash and that cone of DMC 310 too:). I love it so far but it is taking a little longer than I originally thought to stitch up. Don't get me wrong, it's coming together fast just not quite as fast asi expected. I suppose that gives me a little longer to chicken out on a creative finishing for it.
In other news, Josh got s first real bicycle over the weekend. No good pics of it yet as he's pretty much a blur but I did get him to sit mostly still the other day when we bought his helmet...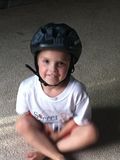 Apparently we need to also invest in some knee and elbow pads as he's already a bit skinned up. Who knew wipe outs would happen so often with training wheels? Oh well, nothing major yet and he's having a great time riding.
One more thing to share for the day- daycare is going through some changes and as a result we are going to have to start packing lunch for Josh so even though we have a full year before worrying about school supplies I found myself in the Back to School section at Target shopping for a lunch bag and thermos. There have been some definite improvements since my school days and I even found something for myself...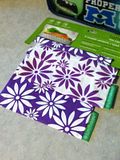 I'm not usually a big product reviewer but these cute little reusable bags are called
Lunchskins2
. I got one bag about the size of a regular sandwich bag and another about the size of a snack bag for about $10. They're meant to take the place of your single use plastic bags. I'm all for saving the planet and some money too and since there will now be two of us brown bagging it I thought I'd give them a try. I'm curious to see how long the Velcro that seals them holds up and how they really do in the dishwasher. I'll let you know.