Everyone get a bunch of stitching in this weekend? I got a fair amount done, I'm definitely over the halfway point now on A Spirited Mandala...
And since I'm a day late this post also will include my pitiful WIPocalypse update. What is this WIPocalypse, you ask? Well, it's a fun SAL hosted by
Measi
to motivate us to work on those WIPs we really want to finish (since we're all still here and the world didn't end last December:) ) Anyway, most of my stitching last round was on the mandala but I did manage to make a headless lady appear in my Fantasy Triptych...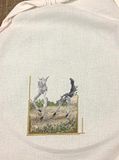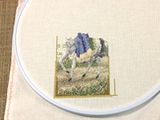 Besides stitching we actually got a jump on camping prep for our upcoming trip in September. I grew up with camping as our family vacation so I'm pretty excited to introduce that to Josh for the first time. Erich is a more recent convert but he's already wanting to plan a big trip for next year if this goes well. Josh has been out to visit Grandma and Grandpa's campsite before but this will be the first time he's stayed overnight so hopefully all will go well. At the very least he liked the tent when we popped it up to air out...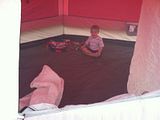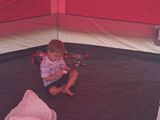 Thats about it for the moment. Lots on my plate this week-extra work hours, haircuts for the little guy and me, all the normal housework. Better get to it. And don't forget- I'm still looking for feedback on the Nordic Needle retreats past and anyone planning on attending next year. Have a great week!