Meant to get a post in between TUSAL and WIPocalypse but didn't quite make it. I have been stitching though and actually have 3 WIPs to show off progress on since last time. First up, Dragon Master which is still sadly just a small stretch of floor but it is growing. Here's a before/after with a regular sized highlighter thrown in for scale...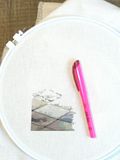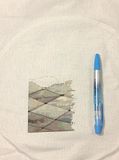 Dragon Moon is next. Almost to the top of the first column on this one!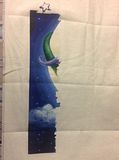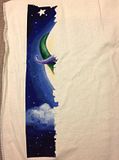 Finally, I've been stitching on Teresa Wentzler's Fantasy Triptych most recently. This one is destined to live above my bed someday. Oh, and in case you're not familiar with the WIPocalypse SAL-
click
and learn and don't forget to sign up too!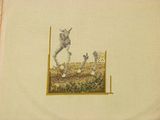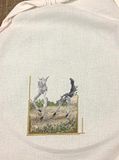 in other stitchy news, I picked up the
JCS special Halloween issue
and
Cross Stitch & Needlework's
Halloween issue at The local bookstore today. I've only had a chance to glance through so far but the Ink Circles mandala and Drac in the box are calling my name loudly already! Might be about time to start thinking about a few new starts...
We did make it up to WI last weekend (and had a great time) but I think I'll hold off on pics until next post hopefully sometime before TUSAL:). Happy stitching until then, I'm off to try to get in a few stitches before its time to go pick up Josh. Daycare is offering swim lessons this week. He seems to like it but I'm not sure how much progress he's made, seems to be a bit timid in the water so far. Oh well, guess we can't all be fish! The soccer group seems to be more his speed so far. Whatever makes him happy as long as he finds a constructive place to direct all that energy.