It's finally Friday and we are done with work, done driving, and relaxing in our hotel room at the beginning of a long weekend trip. This is the first family vacation we've had since our last long weekend trip last summer so we are all happy to be out of town and looking forward to a little family time together without all the responsibilities of home. I've got a few pictures so far but am sure I'll have more as the trip goes and I admit I'm feeling a little lazy so I think I'll stick with the original plan and just share my first big 2013 finish..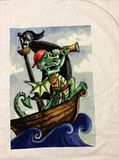 This is QS Pirate Dragon by HAED/Lisa Victoria stitched over 1 thread with 1 strand on 28 count white evenweave. I started it on 7/27/12 and finished on 6/5/13. And yes, it is going to be going hung in Josh's bedroom when we redecorate/move him later this year.
That's about all for now, I'll try to check in later with pics of the trip. We've got big plans- zoo, children's museum, race track, a few new to us restaurants so there should be something to show later. Have a great weekend!