Thanks for all the kind words on yesterday's post. We've always been very open with Josh on the fact that he was adopted to the point that we made a big scrapbook with lots of photos and airline tickets and various little souvenirs of our travel to help him understand his story. Our goal is that it's just a fact of his life, no big deal, not a surprise. He asks to look at it every couple months or so and we talk about the pictures and things in the book. When he asks questions we try to answer in a way he understands though the big ones haven't come up yet. I told him yesterday was a special day, explained it, and asked if he wanted to look at his book. "No thank you, can I have some juice?" was his response. Mission accomplished, I guess.
So to carry on the theme of happy this week Josh's special day is followed by one for Erich and me-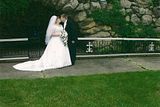 Today happens to be our wedding anniversary. Seems like a long time ago and like yesterday at the same time. At least this morning I didn't wake up to the power going out. On the morning of our wedding the power actually went out at my parents' house about 6am or so. Ended up having to make an early morning wake up call to my groom and have him evacuate the apartment for a few hours so some of the wedding party and I could shower. Outside of that it was a pretty smooth day and here we are 9 years later. No exciting plans for today, probably just Josh's post placement visit and maybe dinner out tonight.


But before I go- I've been promising stitching pics and I actually have some. It's also not too late for a WIPocalypse update so here goes. Since I missed the last couple stitching life hasn't been too exciting, mostly just more QS Pirate Dragon which is so close to being finished now and Dragon Moon which was the project I took to Tulsa. No before pics today but here's where I stand now...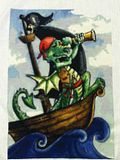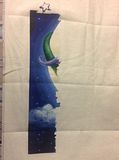 As I said, almost done with QS Pirate Dragon so really hoping for a happy dance soon but also proud of my Tulsa progress. I finished close to a page of Dragon Moon and am closing in on one of my 2013 goals of finishing off the first column of pages. That giant star is on the last page so almost hitting the top now!
Off to do a little clean up before Josh's visitor gets here and then maybe I'll actually have some time to catch up on my blog reading.