...and I'm sorry to have stayed away so long. It will probably take me a couple posts to catch everything up. Hope there's still someone out there reading:).
To say its been an uneventful 2 months would most definitely be an understatement but I'll get to all that in a moment and I'm sure you'll understand. When I left you, we were getting ready for Easter and I was looking forward to a work trip to Oklahoma. Well, Holy Week came and with it a call from the adoption agency saying they had a referral for us to consider. Very unexpected to have it come so early but we were pretty excited until we got the information. It was without a doubt the most difficult decision I've had to make yet as a parent but we declined due to the special needs of the child. I won't go into detail out of respect for the child but in the end it seemed to us that it was going to be a situation that was far beyond our skill level as parents and that to accept the referral would not have been fair to the child or to Josh so we had to say no.
So Easter wasn't quite the exciting, big news to share kind of day we were hoping for but we did manage to have a nice family gathering complete with an egg hunt for the kids...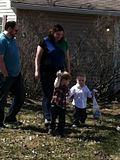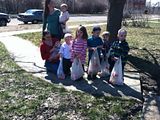 Fast forward a couple weeks and I just wasn't feeling right so I started trying to rule out what it might be and ended up with a positive pregnancy test. Again, quite unexpected since they've all been negative the past 8 years. Things seemed to be going okay, blood tests coming back positive and all, until the ultrasound to try to date it. Nothing showed up so more blood tests and a few days of worry later it was confirmed as a miscarriage. Still dealing with the after effects of that one but the silver lining is that now I know I can and we're hoping and praying that maybe I can again.
I did make it to Tulsa for work which was up in the air for awhile because the whole miscarriage situation started about two weeks before I was due to fly out. It ended up being a good thing for me. I was expecting to use it as a learning opportunity for me as much as a teaching opportunity. It was both and an unexpected but needed vacation from the whole adoption/pregnancy aspect of real life as well. I have a few pics (not many as most I brought home are work-related and we don't talk about where I work here due to the company's blogging policy among other things) both of the trip and of stitching/stash from the trip but I think I'll give those their own post next time.
So that pretty much brings us back to now. The only other big thing going on is that we've decided to cash in a few precious vacation days and take a family trip in a few weeks so that's been giving us all something to look forward to.
Definitely not as much happy as I normally like to post today but I've always said I'd post the ups and downs of adoption to paint the real picture of it for anyone interested. Our adoption application hasn't been affected by any of the recent events so there's the possibility for all kinds of good news in the coming months. In a perfect world we'd get our referral tomorrow and I'd wind up pregnant shortly after gotcha day for the best of both worlds. In the real world we really don't want Josh to grow up an only child so whatever happens is going to be okay with us.