Time to move on to happier things though as always thank you for your kind words regarding my last post. I spent the first two weeks of May in Tulsa, Oklahoma for work and have some things to share from that trip. Looking back at the pics I realized that most of them are actually of things I can't share because they are either of the work site or work people and I'm not particularly interested in having the corporate office view my blog so I'll say that I was there to help transition a location that my employer bought over to our system and leave the work talk at that. Overall, a good trip in that I got a break from home and all the stuff in the last post, got to do a different kind if job for awhile, and found an awesome stitching shop. Oh, and we had some good things to eat too. I can share a few of those...
Bacon popcorn at
The Tavern
in downtown Tulsa. So good!! Going to have to try to make this at home.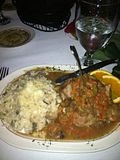 Veal Osso Bucco at
Villa Ravenna
on Mother's Day. Family wasn't there of course but majority of our group was mothers so we took ourselves out for a nice meal anyway.
I must confess that I actually made three trips to
The Silver Needle
while in Tulsa and probably spent way too much money but I missed Mother's Day at home so the guys told me to go have fun. Didn't need to tell me twice! It was a very well stocked shop with a super friendly staff, well liked by me and my credit card company.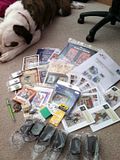 Quite the haul and there are several things I'd love to pull out and start today but I'm still trying to finish off QS Pirate Dragon for Josh so I'm using them as a carrot to get it done. The racing on today should provide a few good stitching hours too. Here's an actual list of the charts/kits if there's in case there's anything you might need to look into further...
Trees 4 Sale (Mill Hill)
Haunted Mansion (Mill Hill)
Halloween Night (Mill Hill)
Piracy- A Viable Career Option (Sue Hillis)
Yo Ho Ho Ho (Sue Hillis)
Snow Country Sleds (Foxwood Crossings)
Quaker Sleds (Foxwood Crossings)
Bread Sleds (Foxwood Crossings)
Saltbox Village (LHN)
Hope (LHN)
Peace (LHN)
Courage (LHN)
Love (LHN)
Bittersweet Autumn (Waxing Moon Designs)
Midnight Manor (Waxing Moon Designs)
Polly the Pirate Witch (Brooke's Books)
Iris Biscornu (The Creative Poppy)
Black Cats Trick or Treat (The Sweetheart Tree)
Scream House (Just Nan)
There were a few things I'd like to especially point out because I hadn't seen them before. First, the Just Nan's Scream House kit-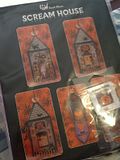 Apparently a shop exclusive this had everything I want to see in a Halloween piece and screamed to be put in my basket. Sorry about the not so great pic, I'll take better ones when I open it up. Now I just have to get up the courage to do the finishing!
And the sleds-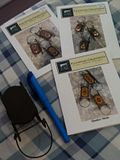 I hadn't seen these anywhere yet but as a big holiday stitcher/collecter I love different finishing methods and thought these were adorable. The idea is to stitch a small section on perforated paper and attach directly to the seat of the sled then use as an ornament. Perfect size too, that's a regular sized highlighter for scale. Too adorable not to buy and apparently I'm not the only one that thought so- the lady at the counter told me they've sold somewhere around 700 of the sleds, could barely keep them in the display basket! I believe her too as she had to get 5 out of my 6 sleds from the stock room.
So that's what I ate and bought and since I've gone a little long I think we'll save the actual stitching for next time since I'm also just about on time for a WIPocalypse update. Off to stitch and watch a little racing and then get the boys out for some yard work this afternoon. Hope everyone is enjoying the weekend!