Since last post I've made a fair amount of progress on various things, not quite as much stitching as I'd like to show but not too bad either. I can actually start to see the corner of the boat and some waves forming now...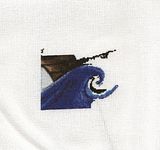 Josh is pleased but he still doesn't see a dragon so back to stitching I go! Hoping to make good progress over the next few weeks as I'm going to be on vacation- 1 shift in the next 15 days, I am super excited for the break!
In other news, found a neat link over at
Tangled Threads
the other day...
Looks like a huge list of crafty blogs, most of which are unfamiliar to me so I spent some time browsing and decided to add myself too. This probably won't improve the amount of time I spend stitching but it's fun to see what everyone else is up to and maybe add to the stash pile too:)
Last but definitely not least- thanks for the well-wishes and positive thoughts for the adoption. We both need and appreciate all the good thoughts we can get! For the newer readers, this is actually our fourth go around if you count the false start before and after Josh. We know it won't be an easy road but he's been worth every minute of paperwork and waiting and we know #2 will be too whenever he/she gets here. We seem to have entered the hurry-up-and-wait portion of the process, as in we hurry up and get documents out to our various agencies, wait for them to be ok'ed or rejected for redo and then hurry up to get the next tasks done:) I guess it's preferable to the waiting portion where we're kind of just stuck in limbo waiting for referral, at least I'm doing something right now.