What a week- my insurance called and wanted to dispute medical bills from our car accident (all ok now and I think the PT figured out what's wrong with my shoulder too, yay!), my father in law had emergency surgery as a follow up to his planned back procedure a couple weeks ago, and my mother spent the night in the ER with what turned out to be an infection and gallstones. And that was just Sunday night/Monday! As of tonight everyone seems to be recovering so hopefully next week will be much quieter.
Despite all that, I have actually managed some stitching time. Look, it's a horse...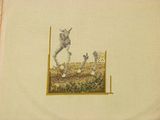 Well, a horse's legs anyway. Even with all the confetti, Fantasy Triptych seems to be stitching up rather quickly. I think I will take a break from it and work on something else for the weekend because this is IHSW. Don't forget to click below to sign up.
I know I've forgotten about the last few and I'm not sure how much I'll actually accomplish with working this weekend and Father's Day on Sunday but I really would like to start participating again so I promise I'll post Minday even if it is only a few stitches. I'd give you a before today but I still haven't decided which WIP I'm picking up yet. Hope you all have a great weekend!