Many, many thanks for all the good thoughts and congrats on our family. It's been a whirlwind of a few months since the little ones were born but we're finally settling into a more normal routine as I get ready to head back to work next week. I can't believe how fast the time has gone and I'd love to extend my time off a little more but someone has to buy diapers and formula.
Being the last day of the year I was thinking of all that's happened to us in 2014. Not much blogging or stitching but lots of good family stuff for sure as we've welcomed not one but two babies and Josh has done so much growing up too- he started the year as a preschooler and is finishing as a big brother in kindergarten and missing a tooth. Ben and Chris have done quite a bit in 3 months as well. They've gone from sleepy newborns to smiley, interactive babies. I won't do the year in pictures but I did bring a few to get you up to date since my last post...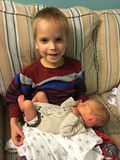 On the crafty side of things I didn't have many finishes but the little ones are starting to get close to sleeping through the night which is freeing up a little evening crafting time for me once again. I managed to finish 1 of 3 Christmas ornaments I planned for my boys and am hoping to finish the second tonight if everyone goes to bed on time. I chose the SamSarah snowmen from the JCS ornament preview and issue for the little ones and Josh chose a Santa ornament I haven't kitted yet so I don't have a pic of that but here are Snow Baby and First Star...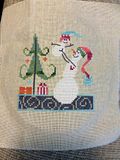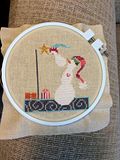 Looking toward to 2015 I'm not going to make specific goals because I know we're in for another crazy year but I'm hoping to get back into a regular stitching and blogging habit as well as getting around to some blog reading. I've really missed seeing everyone's projects! I'm also hoping to get my new crafting space cleaned and organized since we kind of threw everything in the office when it came time to swap rooms to make room for the twins. I had hoped to organize it when I was off work before the babies came but I just didn't end up having the time or energy for it so I think I'm going to try to take one evening a week in 2015 and work on it until it's done.
That's it for now. I'm off to spend the last few hours of the year making some dinner and hopefully getting that last finish in. Hope everyone has a fun and safe celebration tonight and best wishes for a happy and healthy 2015.