So I actually remembered and was off work to participate this month, quite an accomplishment as this SAL has just not worked out for me the past couple months. Being that winter has finally hit us in northern Indiana we actually did pretty much stay home and hide for most of the weekend except for a quick trip out for church and soup-making supplies late Saturday afternoon. Outside of that we kept busy with movies, Legos and puzzles for Josh, modeling for Erich (military tanks and figures not fashion:) ) and plenty of time for QS Pirate Dragon for me. Here's the before/after...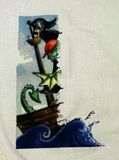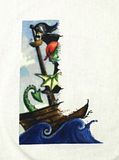 And while we're at it, the other accomplishment for our weekend of hermiting was some homemade split pea soup. Not a favorite with the little guy yet but Erich and I love it on a cold, winter day...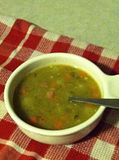 I'll post the recipe next time in case we're not actually the only ones who like this. It's super easy and was even better for lunch today.
Before I go, just wanted to say thanks to all the new (and returning!) visitors and followers from the Grow Your Blog party. I really appreciate your interest in my corner of the world and all the kind things you have said and fully intend to visit everyone I haven't gotten to yet, sometimes it just takes me awhile as my iPad time occasionally gets interrupted by a certain 4 year old who also wants a turn.