After I posted my TUSAL orts yesterday I wandered over to
Daffycat's blog
and found something that looked like fun...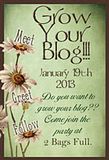 Vicki over at
2 Bags Full
is hosting a blog hop over the weekend as a way to meet some new bloggers and friends. Looks like fun-
instructions and sign-ups here
and I'll do my very best to get my post up in time. Not required but looks like most participants are going to do a giveaway of some sort too so I'll have to think on that one.