A few days late I know, but honestly I wanted to have the weekend to get a few more stitches in so I can offer you a new picture of my Pirate Dragon instead of just recycling the ones you've already
seen since it is the only project I've worked on since the last
WIPocalypse
update. So, here's where I started to refresh your memory...
And now...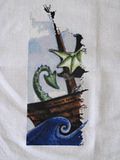 Lots of progress made in very tiny x's as this one is being stitched over 1 on 28 count. I'm up to over 2 of the 9 chart pages finished now and am working my way toward the top of the design which I'll hit at the top of this page. I really want this one done ASAP for Josh but I am planning on taking a short break to avoid burnout and finish off a seasonal design this month. The plan is to knock Witch's Pantry off my list which to refresh your memory from the beginning of the year looks like this currently...
It's close to halfway finished and has been hanging around since 2006, time to finish it off. Anyway, the plan is to get back to the Pirate Dragon when this is done but I forgot that it's TW October over at The Wagon so I may have to break out Fantasy Triptych for a little love too. We'll see how much stitching time I actually manage!