The week hasn't started exactly as planned but when does it ever? The plan was to go on a nice, relaxing weekend trip with Erich while Josh had fun with Grandma and Grandpa then come home and spend the rest of my week off catching up on some things around the house, making a trip to the sort of LNS to pick up a framed piece, and generally getting ready for working next weekend. Well, had a nice Saturday then got the call that Josh wasn't feeling so great so home we came early Sunday and home I've been since then if you don't count the quick grocery trip I made last night. Poor kid, it seems to be some kind of virus but I hate seeing him down. If you've met Josh in person you know that an afternoon in the couch watching cartoons is not in his personality but that's what I've gotten the past couple days.On the up side, my house is pretty clean, we're going to have a nice turkey dinner tonight (slow roasted in a baking bag all afternoon, my favorite!), and I've gotten some stitching done.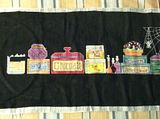 Down to finishing off Dragon Scales, Swamp Gas, some backstitch and then done! I was particularly happy with the way the dragon scales turned out. They're stitched with Crescent Colours Snips & Snails and the green/blue/purple was spaced just right so I could make most of the scales their own distinct color which should show up a little better when I outline then but I tried to get a pic now too...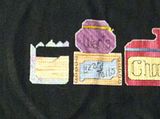 Not sure the color showed up so great but I'll try again after I get the backstitch in. Anyway, it's also
TUSAL
time once again...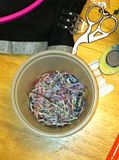 There are actually colored orts in there this time! By next round I'm sure it'll go back to the boring pale blues of the Pirate Dragon sky but enjoy the color while it lasts:) Hope to be back soon with a new framed piece to show off and a happy dance!